Note: This is not about Mortgage Movies per se.
What it is about, is this:
I will shoot my goddamn camera wherever I please, within the bounds of the law.
Believe me, I know the law better than most, as I have won First Amendment trials as an attorney.
So if you think you can get out of your chair as an angry privileged lawyer and attack me for lawfully running video, you are wrong. You will be disciplined and you will be sued.
And I will slam your attorney too. Watch.
The swoop: This car was not supposed to be seen prior to 30 March 2018 NY Auto Show.
Just ask the driver, he'll tell ya LOL
I went to Car and Driver with these photos first because I have been reading Car and Driver for forty-five (45) years. Pat Bedard. Don Sherman. Rich Ceppos. David E. Davis is one of the reasons I owned a BMW 2002tii. The (admittedly sexist) Davis 1968 BMW 2002 road test.... Open your hymnals... Olaf the Volvo & Brock Yates..... we owned a Volvo 144S and many more....
Anyway.... Here ya go.
What It Is: Kia's large flagship sedan, the second-generation K900. The white car was spotted during a commercial shoot in San Diego and snapped by a loyal Car and Driver reader. Meanwhile, Kia released its first two official pictures of the new model, a home-market version of the K900, seen in black.
Why It Matters: It doesn't, much, in terms of sales volumes. Sedans of all stripes are losing sales to crossovers, and Kia sent only a few hundred units of the K900 to the United States last year in a vain attempt to compete against established $60,000 luxury cars and its own parent company's Genesis G90, which didn't receive that much more attention. Rather than follow up with another forgettable design, Kia brought its California studio into the styling mix this time, and the result is quite handsome, although the rear end is so similar to a Mercedes-Benz's that it looks like it could bolt right onto an S-class. The interior sports an analog clock by fancy Swiss watchmaker Maurice Lacroix, and the LED mood lighting glows in different colors. The new K900 appears more substantial and upscale from every angle.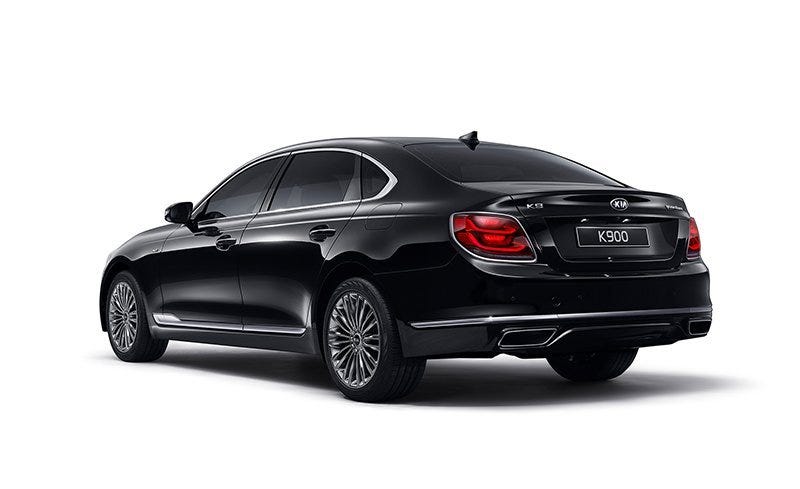 Platform: The new car shares its bones with the G90—a competent chassis by any measure—and thus should offer improved performance and a more premium experience. According to Kia, the wheelbase is 2.3 inches longer than the outgoing K900 and 2.2 inches shorter than the G90. We hope the new car also will be better to drive; the current K900 is a soggy piece that pales against similarly priced establishment players.
Powertrain: Expect the new K900 to come with the G90's two engines, a twin-turbo 3.3-liter V-6 with 365 horsepower and a 5.0-liter V-8 boasting 420 ponies. Kia's 3.8-liter V-6, currently producing 311 horsepower, may return with slightly more power. An eight-speed automatic transmission and rear-wheel drive will be standard, while an AWD badge on the white car's front fenders shows that four driven wheels will be an option, too.
#Kia #KiaK900 #spyphoto #CarandDriverMagazine #CarandDriver #HearstPublications